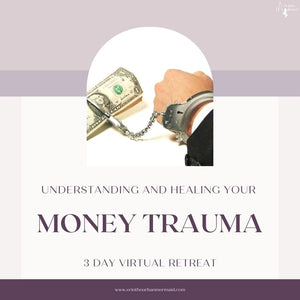 This is pre-recorded from a 3 Day Virtual Retreat and you are purchasing the replay.
Money trauma is deeply rooted, multifaceted, multilevel, vast and truly unique to you and your story and your journey. This makes healing both esoteric and exoteric.
KNOWLEDGE IS YOUR SOVEREIGNTY
This event does a deep dive into the following:
What money really is and it's actual history (and why you NEED to know this)
how money is meant to keep us enslaved
"currency"
limiting beliefs
lack mentality
root chakra blocks
Chiron/Saturn/2nd House wounds
generational traumas
how our subconscious minds has been programmed
karmic cycles
debt
our environment and mass programming
shame
money and energy
money and the New Earth
money in the 3D, 4D and 5D
and healing these wounds. . . 
At the end of the last session, there was an open Q+A forum where live participants had an opportunity to share and ask their questions and receive some guidance. 
The three corresponding guides will be emailed to you along with the event links.