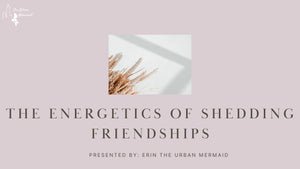 I always say, as we ascend on our journeys, not everyone makes it with us. . .
Friendship break ups are often harder than romantic relationship break ups, but they are necessary for us as we grow.
In this workshop I go into the energetic reason we go through these sheddings, the many reasons why this release is necessary and even the different kinds of friendships we must let go of.
We all experience this in our lifetimes.
This workshop offers clarity, empathy and a deeper understanding about this loss.